Sempra Generation Completes North America's Largest Thin-Film Solar Power Installation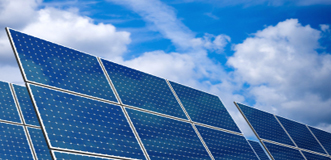 Sempra Generation Completes North America's Largest Thin-Film' Solar Power Installation

PG&E Purchases New Project's Output
December 22, 2008, San Diego, CA – Sempra Generation, a subsidiary of Sempra Energy (NYSE: SRE), todayannounced the completion of the company's first solar energy project, a 10-megawatt (MW) photovoltaic power-generation facility adjacent to the company's existing 480-megawatt El Dorado Energy power plant near Boulder City, Nev., about 40 miles southeast of Las Vegas.
The El Dorado Energy Solar project is the largest operational thin-film, solar-power project in North America. Construction began in July 2008, and involved the installation of more than 167,000 solar modules on 80 acres of desert property designated as a renewable energy zone and leased from Boulder City.
Sempra Generation also announced it has entered into a 20-year power purchase agreement for the new project's entire output with Pacific Gas and Electric (PG&E), the utility serving northern and central California. The contract is subject to approval by the California Public Utilities Commission.

To read the full press release please click here .