Obama to Push for Emissions Limits at Copenhagen. The Detroit News. (November 25, 2009)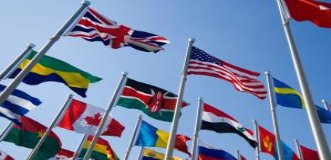 Obama to Push for Emissions Limits at Copenhagen
By David Shepardson
Detroit News
November 25, 2009
Washington -- President Barack Obama will propose a sweeping global reduction in greenhouse gas emissions when he attends a climate change conference next month.
The White House said Friday that Obama will travel to Copenhagen to the United Nations Climate Change Conference. The push for big reductions in greenhouse gases will require automobiles to get progressively more efficient in the coming decades.
Carol Browner, the White House climate czar, told reporters that Obama will propose reducing emissions by 17 percent over 2005 levels by 2020. A big part of that reduction is through sharp increases in vehicle fuel efficiency. She noted the administration is spending $80 billion in clean energy investments.
"We have proposed the first-ever greenhouse gas and the toughest fuel economy standards for new cars and trucks. Congress said get to 35 miles per gallon in 2020; we have proposed 35.5 miles per gallon in 2016," Browner said.
"We have promulgated rules to promote the development of offshore wind and energy. And the Department of Energy has set aggressive new energy appliance standards and continues to move forward on setting more standards."
The administration awarded $2.4 billion in grants for advanced batteries and electric vehicles research in August, with half going for work in Michigan, and is loaning automakers billions to retool factories to build more fuel efficient vehicles. Ford Motor Co. received $5.9 million in retooling loans, and General Motors Co. and Chrysler Group LLC also are expected to get similar loans.
The White House is moving as proposals in Congress to reduce emissions have been delayed until at least next year. Obama's goal is to reduce emissions 83 percent by 2050, which would result in a 30 percent reduction below 2005 levels in 2025, and a 42 percent reduction below 2005 levels in 2030.
The actual fleetwide average will be 34.1 mpg by the 2016 model year -- not 35.5 mpg -- when credits automakers receive for building alternative vehicles and better air conditioners are included. Automakers endorsed the compromise in part to head off separate emissions standards from California and a dozen other states.
The Obama administration's proposed standards for fuel efficiency and tailpipe emissions for the 2012-16 model years will raise vehicle price tags by more than $1,000, depress sales by 58,000 and cost more than 5,000 auto industry jobs in 2012, according to a government analysis.
The plan also establishes federal tailpipe emission limits for the first time, and will result in fuel savings of about $3,000 per vehicle and conservation of 1.8 billion barrels of oil over the lifetime of vehicles produced between 2012 and 2016. The regulations are to be finalized by March 30.
Automakers also stand to benefit if Congress passes "cap and trade" legislation to reduce emissions similar to what Obama is proposing. Congress would collect funds for the right to emit pollution and distribute some to consumers and businesses impacted by the regulations. Automakers could get billions more in research funding as part of the proposals.
In Congress doesn't act, the Environmental Protection Agency has the authority under the Clean Air Act to set limits on greenhouse gas emissions. The Supreme Court ruled in 2007 that EPA explicitly had that authority in a case involving motor vehicle tailpipe emissions.
But the Obama administration has said it would rather that Congress acts.
Some groups praised Obama's plans.
"Ambitious, reliable midterm reduction commitments are the key element to driving the deployment of existing clean energy technologies," said Lisa Jacobson, president of the Business Council for Sustainable Energy. "It is the rapid deployment of these technologies that will allow us to achieve significant emissions reductions in the near term, cost effectively, and drive investment and job creation in the clean energy sectors."
Critics say unless other countries follow suit, especially India and China, emissions limits in the United States will do little to reduce climate change.
They argue it will sharply raise electricity prices, kill jobs and prod employers to shift production to countries that don't have the strict emissions limits.