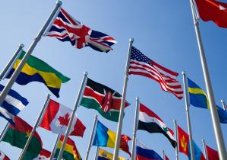 Congressional Briefing: The Road to Copenhagen: Industry Views on Key Issues and Status of International Climate Change Negotiations
On Friday, May 15 the Council will co-present a briefing focusing on the build-up to the United Nations Climate Change Conference in Copenhagen this December.
Friday, May 15, 2009
2:00 p.m. — 3:30 p.m.
419 Dirksen, Senate Office Building
Sponsoring Organizations:
Business Council for Sustainable Energy
Carbon Offset Providers Coalition
Coalition for Emission Reduction Projects
International Emissions Trading Association
Context:
2009 is a critical year in the advancement of international agreements to reduce greenhouse gas emissions. Negotiations are underway, in several forums, to adopt a new multi-lateral framework to address climate change that will have an impact on US businesses and opportunities to deploy clean energy technologies at home and abroad.
The negotiating arenas include the Major Economies Forum on Climate Change and Energy, the annual G8 meeting in July, UN General Assembly meeting in September and the numerous sessions under the United Nations Framework Convention on Climate Change. Issues under consideration include the scope and time-frame of US and other country commitments (Mexico, China, India, etc.) and the reform of carbon emission trading rules. These rules will shape the global carbon markets and influence US corporate planning and investment strategies.
Congressional leadership and guidance are critical to the success of the international climate negotiations Progress internationally will also affect the advancement of federal climate change and energy legislation.
Through this briefing, representatives of US industry who attend the international negotiations will share their views on objectives, expectations and the evolution of agreements leading up to the Copenhagen ministerial conference in December 2009.
The briefing is structured as an informal and interactive discussion with company executives that are engaged in the international negotiations. These companies have significant US business interests from a compliance, technology deployment and investment perspective
Topics:
o Status and Expectations for International Climate Change Negotiations
o Panel Discussion on Key Issues for US Industry leading Up to Copenhagen
o The role of market-based mechanisms and linkages with global markets in a post-2012 deal
Please RSVP to the BCSE at [email protected] or (202) 785-0507 by May13, 2009.