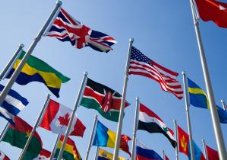 Major Emitters' Meet to Tackle Climate Change
April 27, 2009 - BCSE President Lisa Jacobson comments in a recent story on National Public Radio, 'Major Emitters' Meet To Tackle Climate Change, about the April 27 - 28 meeting of the Major Economies Forum in Washington, DC. Ms. Jacobson remarks that the group could help ensure that American businesses aren't put at a disadvantage. "Having all large emitting countries on a level playing field, a part of a global, multilateral, binding accord to reduce greenhouse gases — this is only going to mitigate competitive tensions," says Jacobson.
To read and listen to the full story, please click here.