Jupiter Oxygen Receives ASE's Innovative Star of Energy Efficiency Award 2008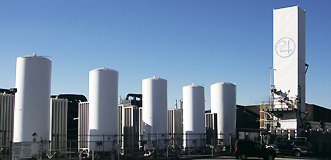 Jupiter Oxygen Receives ASE's Innovative Star of Energy Efficiency Award 2008
June 11, 2008 – The Alliance to Save Energy in Washington, DC named Dietrich Gross, Chairman and CEO of Jupiter Oxygen Corporation, as one of the 2008 Stars of Energy Efficiency. Mr. Gross was selected to receive the prestigious Innovative Star of Energy Efficiency Award 2008.
Concerned about industrial furnace efficiency, rising fossil fuel costs, and environmental issues at his aluminum recycling and manufacturing business, Jupiter Oxygen Corp (JOC) Chairman and CEO Dietrich Gross developed a new method for combustion in industrial furnaces.
This technology has been deployed since 1997, allowing Jupiter Aluminum Corporation, a licensee of JOC's technology, to reduce industrial furnace natural gas consumption by up to 73 percent and fuel oil use up to 68 percent, along with an equivalent reduction of CO2 and ultra low NOx.
Jupiter is expanding the use of this oxy-fuel technology by applying it to fossil fuel steam generators and power plants, focusing on energy efficiency, emissions reduction, and CO2 capture. Jupiter Oxygen's patented oxy-fuel technology enables cost-effective carbon capture from fossil fuel power plants through reduced flue gas volume and highly concentrated CO2. The company's innovative technology is receiving considerable interest from both domestic and worldwide aluminum companies and utilities, and JOC is working closely with international and domestic companies to implement its oxy-fuel technology.
Gross states, "I started this business to help address the environmental issues threatening our planet. I am very proud to have pioneered and patented a specific form of oxy-fuel technology, which is an untempered, high flame temperature oxygen combustion technology that is maximizing heat transfer and results in significantly improved fuel efficiency and reduced emissions."
To read the full press release, please click here.