GTI-Developed TMC Technology Selected as Finalist for the IGU Gas Efficiency Award 2009-2012
January 10, 2011
GTI-Developed TMC Technology Selected as Finalist for the IGU Gas Efficiency Award 2009-2012
BCSE member the Gas Technology Institute (GTI), a not-for-profit Research and Development (R&D) organization focused on solving important energy challenges, is in the running for an important award. The GTI-developed (TMC) technology, based on a nanoporous ceramic membrane that selectively extracts water vapor and its latent heat from natural gas exhaust gases, has been selected as one of the four finalist proposals for the International Gas Union (IGU) Gas Efficiency Award 2009-2012.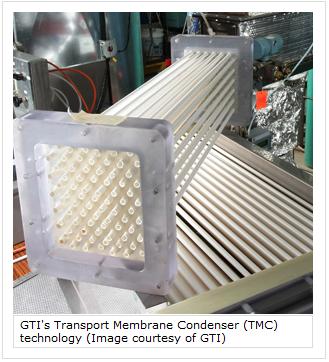 IGU considers energy efficiency as one of the most important ways of achieving a more sustainable energy future, of reducing greenhouse gas emissions, enhancing security of supply and reducing energy related costs. The Gas Efficiency Award calls for new ideas and projects aiming at obtaining better efficiency in the use of natural gas.
The GTI technical team, led by Dexin Wang, has developed, tested, and field verified this energy efficiency technology that can simultaneously capture low-temperature waste heat while recovering clean water from natural gas combustion exhaust streams—giving it a strong position in the energy-water nexus. TMC technology was recently released to the market by GTI's licensing partner (Cannon Boiler Works). In parallel, we are continuing to explore other compelling uses for this important cross-cutting technology.
The chosen four submissions will be forwarded to the Evaluation Committee for the final evaluation and selection of the winning proposal which will be announced by March 2012. The Gas Efficiency Award for the 2009-2012 Triennium will be awarded at the 25th World Gas Conference (WGC) in Kuala Lumpur, Malaysia June 4-8, 2012.
This project is an example of GTI's innovative team of engineers and scientists taking on a tough energy challenge, and responding with a practical solution that offers substantial economic benefits to customers and reduced impacts on the environment.
To learn more about GTI, please visit http://www.gastechnology.org/.