First Solar Sets New Record in Solar Cell Innovation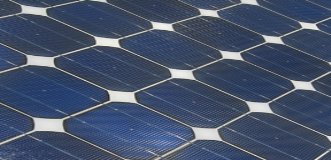 July 26, 2011
First Solar Sets New Record in Solar Cell Innovation
First Solar announced today that it set a new world record for cadmiumtelluride (CdTe) photovoltaic (PV) solar cell efficiency, reaching 17.3 percent with a test cell constructed using commercial scale manufacturing equipment and materials. The test cell's performance, confirmed by the U.S. Department of Energy's National Renewable Energy Lab (NREL), far surpassed the previous record of 16.7 percent set in 2001.
"This is a significant milestone that demonstrates the ongoing potential of our advanced thin-film technology," said Dave Eaglesham, Chief Technology Officer at First Solar. "This leap forward in R&D supports our efficiency roadmap for our production modules and will recalibrate industry expectations for the long-term efficiency potential of CdTe technology."
"This achievement is a direct result of our industry-leading investment in research and development and our commitment to continuous improvement," said Rob Gillette, CEO of First Solar. "First Solar's innovation in both module technology and balance of systems engineering continues to drive us closer to grid parity."
The average efficiency of First Solar modules produced in the first quarter of 2011 was 11.7 percent, up from 11.1 percent a year earlier, and the company has recorded full-module efficiencies over 13.5 percent, with a 13.4 percent module confirmed by NREL. First Solar's module efficiency roadmap sets a goal for production-module efficiencies of 13.5-14.5 percent by the end of 2014.
For more information, visit First Solar's website.