Entering the Next Phase of Energy and Climate Policy. Environmental Finance (June 1, 2010)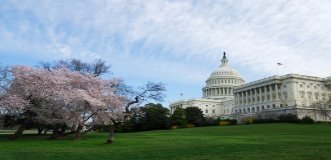 Entering the Next Phase
By Lisa Jacobson
Environmental Finance
June 1, 2010
After months of anticipation and nail-biting highs and lows, Senators Joseph Lieberman (I-Conn) and John Kerry (D-Mass) released their long-awaited federal climate change bill, the American Power Act, in early May. After what was at times a rollercoaster ride of speculation and suspense, the proposal was released without its Republican co-sponsor, Senator Lindsey Graham (R-NC). Citing concerns about Senate plans to consider an immigration bill before climate and energy legislation, Graham has distanced himself from the action.
The American Power Act includes elements necessary to establish a long-term climate change policy for the US with a cap on nearly 85% of US greenhouse gas emissions which will result in a 17% reduction in emissions by 2020 and an 83% reduction by 2050. The proposal includes market-based approaches such as a domestic and international offset programme and limited trading of emission allowances.
With the proposal's release, Senate leaders and the White House can move to a new phase of negotiation. They must work quickly to integrate elements of the American Power Act with other critical proposals, such as the energy policies included in the American Clean Energy Leadership Act which was reported out of the Senate Energy and Natural Resources Committee last June.
From a clean energy business perspective, immediate action is needed on comprehensive energy and climate change legislation this year. This is essential to drive capital investments and create domestic jobs and clean energy manufacturing facilities in the US. Clear and long-term policies in other countries are putting US competitiveness at risk. Without a federal bill, the US is setting the stage to buy clean energy products and technologies from other nations in the years to come.
A comprehensive bill should combine a federal, market-based climate change programme with energy provisions such as a strong national renewable electricity standard, a national energy efficiency standard, policies and incentives for building efficiency, and clean energy tax incentives, among other elements. These policies will save consumers money and are vital to creating market demand for existing clean energy technologies and resources, especially in the early years of implementation.
The more than 900-page American Power Act includes many areas of interest to clean energy industries, but I will focus on two in particular: allowance allocation for renewable energy and energy efficiency; and offsets.
Overall, renewable energy and energy efficiency received significantly fewer allowances under the American Power Act than under other leading proposals. These allowances are primarily granted through the states and can be used for many purposes.
A federal climate bill must strike a balance between the objective of deploying readily available clean energy resources and technologies and the need to offer a transition to conventional energy sources and large emitting sectors. On the positive side, it is important that renewable energy and energy efficiency programmes received allowances under the bill. But, as released, the American Power Act focuses its allowances and other incentives too heavily on offering a transition and too little on near-term technology deployment. In addition, the state-led approach for renewable energy and energy efficiency programmes dilutes the deployment power of this allocation pool, especially for utility-scale investments.
On offsets, it is significant that the bill includes both domestic and international offset programmes. The bill sets a 2 billion ton per year limit overall, with a weighting towards domestic offsets under a 75% to 25% split. It is important to note that this is the same overall level of offsets allowed under the House bill that passed last June (the Waxman-Markey American Clean Energy and Security Act), despite the fact that less of the economy is covered under the cap. This shows the strong recognition by Congress of the role that offsets will play to reduce the cost of compliance with emissions targets as well as the value in generating emissions credits in uncapped sectors, such as agriculture and forestry.
Further, a positive list of eligible project types is provided, which is a much needed provision to provide signals for pre-compliance investments. The list includes a broad range of agricultural, forestry, land use and methane capture offsets already prevalent in voluntary and pre-compliance markets, but also calls out important new opportunities – reducing fugitive methane in the oil and gas sector, carbon capture and storage, and projects reducing the greenhouse gas intensity of agricultural production, among others.
Also important are the bill's provisions on early offset supply, recognising early investments in offsets back to 2001 (with crediting from 2004), and setting criteria for approval of existing voluntary offset programmes. These criteria, while fair and balanced, could be improved to provide greater clarity for pre-compliance investments.
Related to international offsets, the bill does not include as extensive a positive list of project types. Three broad categories, including sector-based credits, credits issued by an international body, and deforestation (REDD) are outlined as categorical sources for credits. However, sequestration, emissions avoidance or reductions from methane destruction and chlorofluorocarbon or ozone-depleting substance projects are highlighted. Additional project types may be eligible if the price of allowances reaches the cost containment reserve auction price for two consecutive years. Similar to previous federal proposals, international offsets are discounted after 2017 and there are other limitations that will restrict their use.
Broadly speaking, the American Power Act is an important step in moving the Senate closer to consideration of comprehensive climate and energy legislation. It offers a foundation, but needs improvement to provide the market signals for near-term emission reductions for existing technology and offsets.
With the clock-ticking towards the November mid-term elections, the Senate must complete its work on the legislation as soon as possible and ideally prior to the August Congressional recess. For this to be successful, the Obama Administration must take a strong and aggressive stand on enactment of this legislation this year.
Lisa Jacobson is the president of the Business Council for Sustainable Energy, a coalition of business and trade associations representing the energy efficiency, renewable energy and natural gas industries in the United States.
A PDF version of this article is available here.