Clean Energy Industries Praise Passage of Landmark Climate and Energy Bill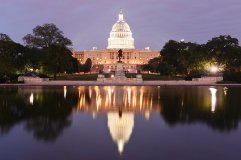 Clean Energy Industries Praise Passage of Landmark Climate and Energy Bill
Historic House Vote Shows US Leadership in Climate Protection and Clean Energy

Washington, DC – June 26, 2009: The Business Council for Sustainable Energy (the Council), commends the U.S. House of Representatives for its historic vote to pass the American Clean Energy and Security Act of 2009 (ACES).
"This landmark vote sends a strong signal to capital markets and world community that the US is ready to be a leader in the clean energy economy and in the global challenge of protecting the climate," said Council President Lisa Jacobson.
The Council has long supported adoption of comprehensive and market-based climate change and energy legislation. The American Clean Energy and Security Act establishes a national, market-based approach to reducing greenhouse gas emissions with vital cost containment and energy policies as well as incentives that will deploy existing clean energy technologies.
"The comprehensive approach to energy and climate change policy adopted by the bill provides regulatory clarity and sends strong and long-term signals to the market to invest in existing clean energy technologies—such as renewable energy, energy efficiency and natural gas," Jacobson said.
While strengthening of the legislation is still needed, House passage of the American Clean Energy and Security Act is a critical step in the legislative process. The Council and its members look forward to working with Members of the Congress to improve and enact the American Clean Energy and Security Act.
To download the full press release, please click here .