Clean Energy Businesses Send an Open Letter to Congress Urging Strong Energy & Climate Change Legislation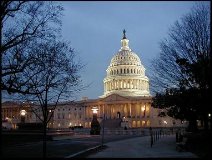 An Open Letter to Congress: Now is the Time to Pass a Strong Clean Energy and Climate Bill
October 5, 2009, Washington, DC: A coalition of clean energy businesses released an Open Letter to Congress the week of October 5 in Roll Call and Politico. This letter featured real U.S. workers employed in clean energy jobs, as these men and women are the faces of the U.S. clean energy economy.
Their images and the signatures of the more than 100 companies and business associations supporting the Open Letter's message drive home the need for Congress to adopt comprehensive energy and climate legislation as a way to promote economic growth, energy independence, and environmental stability.
This release of the Clean Energy Business Open Letter to Congress is part of a larger educational media campaign aimed at demonstrating the wide scope and large number of jobs that clean energy investments can bring to the U.S. economy. The Open Letter urges investments in clean energy to avoid losing ground to other countries that are more aggressively investing in clean energy technology.
To download a copy of the Clean Energy Business Open Letter to Congress, please click here.