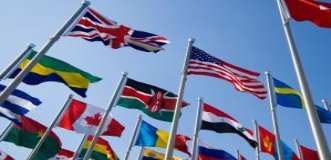 FOR IMMEDIATE RELEASE
December 1, 2012
Contact: Colbie Holderness/Laura Tierney
Email: [email protected]
Clean Energy Businesses Honor Government Leaders at COP18
Distinguished Service Awards Given to Delegates from Mexico and the US
Doha, Qatar— In celebration of twenty years of constructive engagement under the United Nations Framework Convention on Climate Change (UNFCCC), the Business Council for Sustainable Energy (BCSE) announced two Distinguished Leadership Awards at an annual dinner of international delegates and clean energy executives at COP18 in Doha, Qatar.
Tonight, the Council honored the following two recipients for their outstanding contributions to the international climate change process under the UNFCCC and for their open partnership and engagement with the Council's clean energy industries for many years:
Mr. Daniel Reifsnyder, Deputy Assistant Secretary, Bureau of Oceans, Environment and Science, U.S. Department of State
Ms. Julia Martínez, National Institute of Ecology and Climate Change, Mexico (Instituto nacional de Ecología y Cambio Climático)
"We commend these two individuals for their tireless leadership in the international climate change negotiations and for their efforts to work with private sector. For the past twenty years, the Council has been committed to fostering a sustained dialogue and partnership between the business community and government leaders on the framework that is needed to successfully deploy clean energy technologies and reduce greenhouse gas emissions," commented BCSE president Lisa Jacobson. "Both Dan and Julia embody this approach and, through skilled leadership and dedication, have achieved significant results to address climate change."

Download the full statement.