Clean Energy Businesses Call for Strong Private Sector Role, Financing for Technology Transfer in Intervention before the SBSTA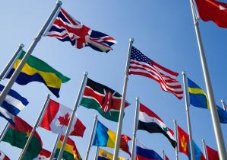 FOR IMMEDIATE RELEASE
December 12, 2009
Contact: Jack Thirolf
Email: [email protected]
Telephone: 202.785.0507 or 202.494.5133
Clean Energy Businesses Call for Strong Private Sector Role, Financing for Technology Transfer in Intervention before the SBSTA
Copenhagen, Denmark: "The development and transfer of mitigation and adaptation technologies are essential to addressing the climate change challenge. We acknowledge that this is a joint effort between developed and developing countries, which will provide benefits for all participants." This was the key message delivered by Clay Nesler of Johnson Controls, Inc. who spoke today on behalf of businesses and industry NGOs before the Subsidiary Body for Scientific and Technological Advice (SBSTA).
Mr. Nesler represented the views of the International Council for Sustainable Energy (ICSE), and the Global Wind Energy Council (GWEC), leading trade organizations that represent companies with billions of dollars in financial capital and investments, and a strong commercial interest in the expansion of existing clean energy technology markets as well as effective carbon markets that contribute to reductions in greenhouse gas emissions. He emphasized the groups' support for "a strong Copenhagen accord with clear mid-term and long-term policy signals for developed countries and clarity on national policies and actions in major emitting developing countries."
The ICSE and GWEC call specifically for technology transfer and financing outcomes in Copenhagen that:
Involve the private sector in the design, governance and implementation of new initiatives;
Support intellectual property rights;
Focus on leveraging private capital; and
Emphasize capacity building and creating enabling environments to support sustainable markets for clean energy products and services.
The full text of Mr. Nesler's intervention is available here . He blogged about the intervention on the Energy Efficiency Forum website.