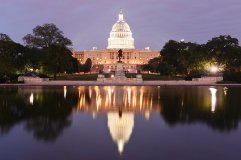 Clean Energy Industries Urge Congress to Pass and Strengthen the American Clean Energy & Security Act
The Business Council for Sustainable Energy – a coalition of clean energy companies and trade associations – urges House passage of the American Clean Energy and Security Act to put the nation on the path towards a clean energy economy—protecting our environment and creating thousands of US jobs.
Why Clean Energy Businesses Support Passage of ACES

The nation is on the cusp of transforming the way we generate, distribute and use energy. To keep up with expected increases in energy demand and to address the challenge of global climate change, significant investment in the energy sector will be needed in the next several decades.
Businesses need predictability to know where to direct capital investments. The comprehensive approach to energy and climate change policy adopted by ACES provides regulatory clarity and sends strong and long-term signals to the market to invest in existing clean energy technologies – such as renewable energy, energy efficiency and natural gas.
US businesses stand ready to create hundreds of thousands of high-quality jobs. ACES provides clear and lasting clean energy policies and incentives that will create enduring markets. This will unleash billions of investment dollars for clean energy.
For more information, please see: