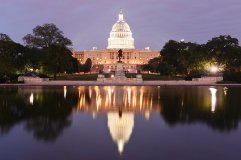 FOR IMMEDIATE RELEASE
February 12, 2013
Contact: Ruth McCormick
Email: [email protected]
Office: +1 202.785.0507

BCSE Statement in Response to President Obama's State of the Union Address
Washington, DC -- The Business Council for Sustainable Energy released the following statement from Council President Lisa Jacobson in response to President Obama's comments in his State of the Union address on sustainable energy and climate change.
"Clean energy businesses commend the President for reaffirming his commitment to reduce greenhouse gas emissions and to address the damaging and costly impacts of climate change. We agree that the most effective approach is for Congress to pursue a bipartisan, market-based solution to climate change. However, if that is not possible in the short-term, clean energy industries will work with the Administration to ensure that commercially-available clean energy technologies are fully utilized to reduce emissions and improve the resiliency of our buildings and infrastructure.
"Recent trends show that U.S. carbon emission reduction goals are not only achievable, but it can be done in an way that is affordable and does not harm economic growth.
"The Council also commends the President for his commitment to cut energy waste in half in the next 20 years and his pledge to support states that take steps to increase energy productivity for households, businesses and the building sector."
The Business Council for Sustainable Energy and Bloomberg New Energy Finance - a leading market research firm - have just released the Sustainable Energy in American 2013 Factbook, which shows that a revolution is transforming how Americans produce, consume and even think about energy. Today's energy mix in the United States is undergoing radical change and low carbon sources of energy such as natural gas, renewable energy and energy efficiency are on the rise, as shown in 2012 by:
Renewable energy installations hit an all-time record with at least 17 GW of new nameplate capacity added.
In April 2012, electricity generation from natural gas equaled that from coal for the first time in U.S. history.
Policies and approaches for financing energy efficiency continued to make market headway; energy intensity for U.S. commercial buildings has now dropped by more than 40% since 1980 and investments in smart grid topped $4 billion.
Carbon dioxide emissions from the energy sector were on pace to sink to their lowest level since 1994.
A full copy of the statement is available here.