Clean Energy Coast to Coast
The Business Council for Sustainable Energy (BCSE), a coalition of leading companies and trade associations from America's energy efficiency, renewable energy, and natural gas industries, is proud to debut Clean Energy Coast to Coast, an interactive online map highlighting the work being done by its members nationwide. From building efficiency retrofits in Hawaii to wind farms in Minnesota to cutting edge natural gas research in Oklahoma, the Council's members are strengthening America's energy future and creating American jobs in every state of the country.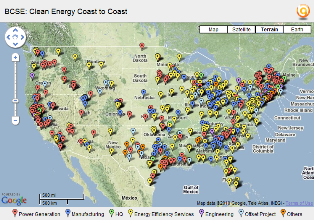 The BCSE invites you to explore Clean Energy Coast to Coast at www.batchgeo.com/map/bcse. Each point on the map represents a BCSE member facility engaged in some part of the clean energy economy and includes a link with further information on the company and/or facility.
The Council's diverse membership is united around the core principle of promoting market-based policies that take a long-term view of the nation's energy needs and that properly consider the full economic and environmental attributes of energy production and use.