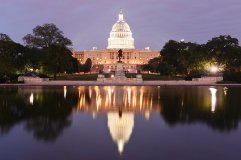 January 27, 2014
BCSE Winter Newsletter
Quarterly Connection, Vol. 11
President's View: Ensuring EPA's Carbon Regulations Provide Market Opportunities for Clean Energy
Top Ten Things You Need to Know About the US Energy Transformation – 2014 Sustainable Energy in America Factbook Out on February 6
BCSE at NARUC: Driving America's Energy Today
Clean Energy Keeping Momentum at International Climate Talks

2014 Clean Energy Forum Preview

President's View: Ensuring EPA's Carbon Regulations Provide Market Opportunities for Clean Energy
With the release of President Obama's Climate Action Plan in June, BCSE and its members have been working with federal agencies to unleash the opportunities for them to promote the expanded use of readily-available clean energy options. A specific focus has been with the Environmental Protection Agency (EPA) as it develops its proposed guidelines to states as part of its regulation of carbon emissions from existing power plants. BCSE members have a portfolio of technology solutions that serve energy needs in a reliable and affordable manner – while reducing carbon emissions and creating jobs.
BCSE has focused its outreach on making the case to EPA and states that energy efficiency, natural gas and renewable energy should be eligible to help meet carbon emissions obligations under the regulation. BCSE has urged EPA to include specific language in the proposed guidelines expected to be released in June 2014 that makes clear the full range of clean energy technologies eligible for compliance options; that Evaluation, Monitoring and Verification protocols are provided to help air regulators consider these options; and that existing programs and investments in clean energy be recognized in the rulemaking process.
Looking ahead, BCSE will deepen its engagement with states through coordination with national state-based organizations including National Association of Regulatory Utility Commissioners (NARUC), National Association of State Energy Officials (NASEO) and the National Association of Clean Air Agencies (NACCA) as well as direct outreach. The aim is for EPA and states to incorporate BCSE suggestions in the guidelines and subsequent state compliance plans.
In addition, BCSE is working to assist its members in better understanding the range of design and legal issues involved in developing the regulations. The BCSE Clean Air Subcommittee is hosting a series of discussions with thought-leaders on these topics.
While there is uncertainty on the implementation path for the carbon regulations, the process of developing the EPA guidelines and the state compliance plans offers a critical opportunity to BCSE members. It is our goal to ensure the full portfolio of clean energy options is made available to states to meet their energy needs and reduce emissions.

Top Ten Things You Need to Know About the US Energy Transformation – 2014 Sustainable Energy in America Factbook Out on February 6
Traditional energy sources are declining, while natural gas, renewable energy and energy efficiency are playing a larger role. Between 2007 and 2013, total energy use fell 5 percent, while GDP grew by 5.8 percent. This was driven largely by advances in energy efficiency in the transportation, power generation and buildings sectors. While energy demand has fallen more steeply than it has in at least 50 years, the use of natural gas and renewable energy has increased. Natural gas provided the U.S. with 27 percent of its total energy supply and renewables accounted for 9.5 percent of US energy in 2013. Additionally, since 1997, 94 percent of new power capacity built in the US has come in the form of natural gas plants or renewable energy facilities.
This shift in US energy system is not just about technologies and fuels, but also about markets. The electricity market structures are evolving and US power sector – long skewed towards large, centralized systems – is gradually absorbing a growing role for distributed power (eg, combined heat and power (CHP), small-scale renewables, and fuel cells).
The Business Council for Sustainable Energy (BCSE) represents private sector businesses that are at the forefront of this shift—from the renewable energy, natural gas, and energy efficiency industries. For the second time, the Council has partnered with Bloomberg New Energy Finance (BNEF) to deliver insights on the state of America's Energy Transformation. Those insights are captured in the 2014 version of the Sustainable Energy in America Factbook. Please join the Council at the upcoming release of the 2014 edition of the Factbook on February 6 in Washington, DC.
The Factbook includes new data on:
Clean energy investment and deployment levels in the states
Energy efficiency, biomass, biogas, and waste-to-energy industries
"Smart" technologies that aim to improve productivity and lower costs for consumers and businesses
Emerging trends such as "resilient" energy infrastructure and distributed generation
Release Events
Join the Council in Washington, DC for the release of the Factbook on February 6, 12:00 pm – 2:00 pm, additional details on how to register are available here. A New York City release will be held on February 19, from 4:00 – 7:00 pm, please see details here.
BCSE would like to give a special thank you to this year's sponsors of the Factbook: American Gas Association, Center for Environmental Innovation in Roofing, Covanta Energy, Energi, Inc., Fuel Cell & Hydrogen Energy Association, Hannon Armstrong, Ingersoll Rand, Johnson Controls, Jupiter Oxygen Corporation, North American Insulation Manufacturers Association, Polyisocyanurate Insulation Manufacturers Association, Sacramento Municipal Utility District, Sempra Energy, Solar Energy Industries Association, Solar Turbines, United Technologies Corporation and Waste Management.

BCSE at NARUC: Driving America's Energy Today
Utility commissioners from across the country will arrive in Washington, DC next month for the National Association of Regulatory Utilities Commissioners' (NARUC) winter committee meetings where BCSE has several activities planned to share updates on clean energy across the U.S.
BCSE will present key findings from the Sustainable Energy in America Factbook 2014 to commissioners and staff of the NARUC Energy Resources and Environment Committee and the Gas Staff Subcommittee. The presentations will be timely since the NARUC committee meetings are to be held February 9-12, on the heels of the Factbook's public release.
BCSE will also co-host a clean energy industry reception entitled, "Driving America's Energy Today." The reception will be held in the Tesla showroom in downtown DC and is jointly sponsored by BCSE, SEIA and AWEA.
Rounding out the BCSE winter activities with NARUC, the Council is helping to organize a tour of the White House for commissioners and BCSE members. Through these NARUC events BCSE continues to engage with state utility commissioners who are charged with energy planning across the country. For information about the Winter Committee meetings of the National Association of Regulatory Utility Commissioners please click here .

Clean Energy Keeping Momentum at International Climate Talks
As the international community is slowly moving towards a new global agreement on climate change, set for December 2015 in Paris, France, the Council's delegation to the recent 19th Conference of the Parties (COP19) to the UN Framework Convention on Climate Change in Warsaw, Poland in November 2013 – brought real-life examples of how existing clean energy technologies are deploying solutions that are delivering GHG reductions, from dense, urban built environments to remote rural villages.
The delegation engaged in discussions with international delegates on a range of topics, including technology and the need to protect intellectual property rights, the importance of market-based mechanisms and carbon markets, the potential role of carbon capture and storage and the policies that are needed to stimulate private sector investment into energy efficiency and renewables.
As the world seeks to raise the ambition of country contributions towards a new international agreement in Paris in 2015, increasing attention will be placed on what the private sector, civil society and sub-national actors can do to reduce GHG emissions and adapt to a changing climate. Milestone events to watch in 2014 include UN Secretary General Ban Ki-moon's Leaders Climate Summit on September 23 in New York City and COP 21 in Lima, Peru, from December 1-12.

2014 Clean Energy Forum Preview
On Wednesday, March 12 the Business Council for Sustainable Energy will be holding its annual Clean Energy Forum at the offices of the American Gas Association. The day will feature a variety of events including a morning membership meeting, followed by an expert panel of clean energy industry though leaders, networking lunch, guest speakers, and finally a number of Capitol Hill outreach meetings. More details will be coming soon. To register for the forum please click here. Please note this event is for members of the BCSE.