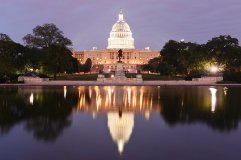 BCSE Insights on Senate Debate:
Climate Change Bill Postponed By Senate
by Christopher Joyce
All Things Considered, National Public Radio, July 10, 2009
After two days of hearings, Democratic leaders agreed to mothball the measure until September. They blamed a full schedule on health care reform and the president's Supreme Court nominee for the delay. But it was clear from its brief moment in the spotlight that the climate bill, which puts a national cap on emissions of greenhouse gases, faces withering opposition from Republicans. They say it will cost consumers too much and hurt American business. Bill backers say it will create a new green economy and is necessary to avoid devastating climate change. …
BCSE President Lisa Jacobson offered insight into the postponed Senate debate. "Some states are more resource-rich in coal," says Jacobson. "Others are the Saudi Arabia of wind energy, or they have strong solar resources." Each will want the bill to include a slice of the energy pie for its home-state businesses. Jacobson adds that the hobbled economy is also shaping the demands senators are making; Midwestern states are particularly hard hit by unemployment.
To listen to or read the full story, please click here.