BCSE Commends U.S. Announcement of Financial Assistance for Adaptation and Mitigation at COP15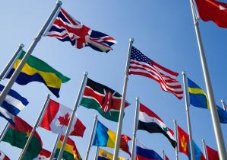 FOR IMMEDIATE RELEASE
December 17, 2009
Contact: Jack Thirolf
Email: [email protected]
Telephone: 202.785.0507 or 202.494.5133
Clean Energy Businesses Praise Secretary Clinton's Announcement of Financial Assistance for Adaptation and Mitigation in Developing Countries
Copenhagen, Denmark: The Business Council for Sustainable Energy (BCSE), an industry coalition of energy efficiency, renewable energy, and natural gas businesses and trade associations, commends Secretary of State Hillary Clinton for announcing today the United States' pledge to help secure by 2020 $100 billion in annual financing to provide assistance for adaptation and mitigation in developing countries.

"Secretary Clinton's announcement signals an opportunity for a breakthrough in the negotiations," said BCSE President Lisa Jacobson today. She continued, "U.S. contributions to an international financing package will mean the creation of American manufacturing and jobs in the clean energy sectors as we assist developing nations alleviate energy poverty and increase the quality of life for millions of people."
Ms. Jacobson added, "U.S. financial assistance for adaptation and mitigation helps open new markets and opportunities to expand U.S. manufacturing and exports in clean energy sectors, including renewable energy and energy efficiency."
The BCSE is leading a delegation of over 100 business executives at COP15 in Copenhagen and has long supported international financing for technology transfer and adaptation. Early last week the Council released The Post-2012 Opportunity: Clean Energy and the Low Carbon Economy, its policy paper for the COP15 negotiations.
Click here for a pdf copy of this release.