Austin Energy Leads Nation in Green Power Sales for Ninth Year in a Row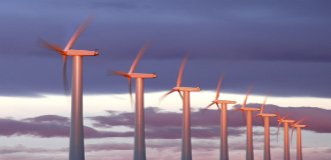 May 9, 2011
Austin Energy Leads Nation in Green Power Sales for Ninth Year in a Row
Austin Energy led all 850 utility-sponsored programs nationwide in 2010 for the most sales of renewable energy, according to the U.S. Department of Energy's National Renewable energy Laboratory rankings. The company garnered this distinction for the ninth year in a row.
Rankings are based on sales through voluntary programs, such as Austin Energy's GreenChoice, where customers can choose to purchase electricity from renewable energy sources such as wind and solar.
Austin Energy's GreenChoice® program was one of the first voluntary programs in the nation to lock in prices as a hedge against the volatile and fluctuating price of fossil fuels. When customers subscribe to GreenChoice, their fuel charge – which pays for fuel such as natural gas and coal – is replaced with a green power charge that is locked in for the length of green power contracts, mostly wind, purchased by Austin Energy. While the conventional fuel charge is adjusted at least annually, Austin Energy has offered GreenChoice customers, depending on the wind contract, locked in prices for terms of 5, 10 and 15 years.
Because of this price certainty, more than 450 commercial customers subscribe to GreenChoice accounting for 83 percent of all green power sold. In fact, 54 large commercial customers account for almost half of all the renewable energy purchased. In addition, about 9,500 residential customers subscribe to the program.
For more information, please see Austin Energy's press release.