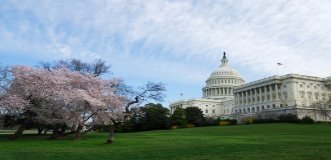 The Role of Energy Storage in a Clean Energy Economy
As the nation moves to a clean energy economy, it is critical that Congress provide the correct investment and policy incentives to guarantee the deployment of clean energy resources and sustainable transportation technologies. Energy storage technologies are strategic tools to manage variability and assist with power system integration of renewable energy.
On April 24, 2009, the BCSE and the National Hydropower Association hosted a Congressional briefing featuring a panel of its industry members - including Stephen Byrd, President, PSEG Holdings; Eladio Knipping, Senior Technical Manager, Environment, Electric Power Research Institute (EPRI); and Mike Jones, Director New Generation Development, Pacific Gas & Electric. The energy storage technologies discussed included compressed aiir enegy storage (CAES), battery technology & plug-in hybrid electric vehicles and pumped hydro storage.
Presentations also focused on how energy storage technologies: 1) enhance our nation's energy independence by maximizing storage capacity to address resource variability and load management in the transportation and power sectors; 2) reduce emissions of greenhouse gases to meet our climate change goals; and 3) create new jobs in the sector of research & development, manufacture and operation of energy storage technologies and facilities.
To download the presentations from this briefing, please visit the "Events" section of this website.