Absent Climate Bill, Congress May Focus on Energy Efficiency to Reduce Emissions. BNA (November 19, 2010)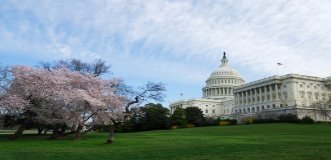 Absent Climate Bill, Congress May Focus on Energy Efficiency to Reduce Emissions
By Ari Natter - November 19, 2010
BNA Daily Environment Report
With no chance of a greenhouse gas emissions cap-and-trade bill becoming law anytime soon, Congress's next step in addressing climate change may be legislation to implement broad energy efficiency measures. Legislative approaches that could be considered range from tax incentives for energy efficiency improvements, to billions of dollars in rebates for home owners for energy efficiency upgrades, or measures that would address energy conservation standards for such items as hot tubs and streetlights. With time growing short to act on any measures in the lame-duck session this year, analysts say Congress could revisit energy efficiency in the 112th Congress in 201l.
Energy efficiency measures and improvements in technology could result in roughly the same near-term reduction in greenhouse gas emissions as many of the legislative plans considered by Congress, and that approach is far less divisive than putting a price on carbon emissions, according to energy conservation advocates.
"Energy efficiency is an important part of addressing climate change and it has bipartisan support, unlike most of the things that would directly address climate change," said Steven Nadel, executive director of the American Council for an Energy-Efficient Economy, a nonprofit group that promotes energy efficiency.
An 'Area We Can Agree On.'
Among those calling for congressional cooperation is President Obama, who cited energy efficiency as one of the "areas where we can agree on."
"I don't think there's anybody in America who thinks that we've got an energy policy that works the way it needs to" Obama said during a news conference Nov. 3, the day after congressional midterm elections handed control of the House of Representatives to Republicans. Obama said that the desire for energy independence "gives opportunities for Democrats and Republicans to come together and think about-you know, whether it's natural gas or energy efficiency or how we can build electric cars in this country-how do we move forward on that agenda."
According to the American Council for an Energy-Efficient Economy, existing energy efficiency technologies could result in a cut in U.S. greenhouse gas emissions of approximately 25 percent to 35 percent, and a corresponding reduction in energy use, by 2030.
Among the possibilities are stricter energy efficiency standards for appliances, more efficient lighting in homes, improved industrial processes for manufacturers of goods such as paper, steel, and aluminium, Nadel told BNA in an interview last month.
"There are no silver bullets, but lots of silver BBs," he said. "It's many little things."
60 Percent Emissions Reductions Possible.
"Very preliminary" estimates show energy efficiency measures could result in a 60 percent greenhouse gas reduction by 2050, Nadel said, adding "clearly we are trying to get to 80 [percent] or 90 [percent]."
Climate legislation (H.R. 2454) that was approved by the House in June 2009 would cut U.S. emissions 17 percent by 2020 from 2005 levels and 83 percent by 2050, similar to levels in draft Senate climate change legislation, the American Power Act, as well as the level of cuts Obama has publicly backed.
"Energy efficiency should be the first out of the gate given that the climate bill has been deferred," Brad Penney, director of government relations for the Alliance to Save Energy, which represents companies such as Best Buy and Dow Chemical Co., said in an October interview.
Among the measures that have the best chance of moving during the lame-duck congressional session, according to the industry and other congressional observers, is energy efficiency-related tax legislation that could be attached to a bill that would extend trillions of dollars in tax cuts. Components of the Advanced Energy Tax Incentives Act (S. 3935), introduced by Senate Energy and Natural Resources Committee Chairman Jeff Bingaman (D-N.M.) and Sen. Olympia Snowe (R-Maine) in late September, are considered candidates for a tax-extenders bill, according to Penney and others tracking developments in energy efficiency (189 DEN A-14, 10/1/10).
Wide Range of Tax Provisions.
S. 3935 includes a wide range of provisions related to energy efficiency, including the extension of a tax credit of up to $2,000 for builders of new homes that have heating and cooling energy use rated to be 50 percent lower than that found in typical new homes. It also would increase to $1,500 a tax credit for companies that make Energy Star qualified manufactured homes, according to a bill summary.
In addition, the legislation would create a $200 tax credit for homeowners who undertake an energy efficiency audit, establish a $120-per-horsepower tax credit for increased efficiency in industrial motor production, and would allow a bonus depreciation incentive for businesses that invest in "highly efficient" natural gas or biomass thermal energy systems, according to the summary.
Also possible during the lame-duck, but more likely to be considered during the 112th Congress is legislation that would create a consumer rebate program for homeowners who make energy-efficiency improvements such as adding insulation, sealing leaks, replacing drafty windows and doors, and installing energy efficient water heaters and other appliances.
That legislation, the Home Star Energy Retrofit Act of 2010 (S. 3434), introduced May 27 by Bingaman, Snowe, and Sens. Mark Warner (D-Va.) and Lindsey Graham (R-S.C.), would establish a $6 billion homeowner energy efficiency incentive program that includes $5 billion in homeowner rebates and a tax credit program estimated to cost $1 billion (102 DEN A-6, 5/28/10).
The House passed legislation (H.R. 5019) in May that would create a $5.7 billion version of the program (87 DEN A-8, 5/7/10) Also pending is the Implementation of National Consensus Appliance Agreements Act (S. 3925), introduced Sept. 29 by Bingaman, which would set new energy-use standards and strengthen existing standards for more than a dozen consumer products.
Standards for Drinking Fountains, Spas.
Among the products the legislation would regulate are drinking water fountains, hot food holding cabinets, electric spas, furnaces, heat pumps, central air conditioners, portable lamps, refrigerators and freezers, clothes washers and dryers, dishwashers, room air conditioners, and pole-mounted outdoor lighting.
Many of those standards were part of broader energy legislation (S. 1462) passed out of Bingaman's committee in 2009 or were included in consensus agreements with industry and energy efficiency advocates, such as an Energy Efficient and Smart Appliance Agreement reached in July (183 DEN A-7, 9/23/10).
"[E]ven if the Senate is unable to enact comprehensive energy legislation this year, enactment of the consensus agreements in this bill offers an opportunity to strengthen our economy by reducing energy use, saving consumers money, and improving the environment," Bingaman said in a statement following the legislation's introduction.
Efficiency to 'Remain on the Agenda.'
Penney, the Alliance to Save Energy lobbyist, said he was optimistic many of the efficiency measures would draw support in the new Congress, despite the shift to Republican control in the House.
"We think energy efficiency will remain on the agenda of Congress," he told BNA. "Because energy efficiency bills have received Republican support, we think going forward energy efficiency will draw a lot of support in the new Congress."
Republican members of the Alliance to Save Energy's board include Sens. Lugar and Susan M. Collins (Maine) and Reps. Michael Burgess (Texas), Zach Wamp (Tenn.), and Ralph Hall (Texas). Furthermore, in the House, Republican energy legislation introduced in June 2009, The American Energy Act (H.R. 2846), would expand the role for nuclear power and promote oil and gas production, but it also has an energy efficiency section that includes tax credits for energy efficiency improvements in several areas. The bill was introduced by House Minority Leader John Boehner (R-Ohio), who will be speaker in the next Congress.
Still, it remains largely unknown how an energy efficiency bill will fare in a Congress that features more Republican control. While energy efficiency bills such as the measure setting appliance standards are viewed as some of the most likely legislation to move forward, "they are still politically challenging. They are not slam dunks," one energy efficiency advocate told BNA. In the House, energy efficiency legislation would likely be considered by the Energy and Commerce Committee. One of the members vying for the committee chairmanship, Rep. Fred Upton (R-Mich.), has said the Energy Star program and other Department of Energy efficiency programs are candidates for budget cuts. Moreover, Republicans have signaled their intention to reduce federal spending, making it a challenge to enact a program such as Home Star.
"If they don't move forward in the lame duck and we have a whole new Congress, I think you have to reassess what's a consensus depending on who's around," the advocate said.
Energy Legislation Uncertain.
Bill Wicker, a spokesman for the majority members of the Senate Energy and Natural Resources Committee said in a Nov. 15 e-mail that outside of a "must-pass" continuing resolution to keep government funding flowing temporarily, "it is not clear which legislative measures will move during the lame duck."
Jeffrey C. Genzer, counsel to the National Association of State Energy Officials, said whether the Senate acts on energy during the lame duck or in the new Congress remains an unknown, but if an energy bill were brought forward it would likely broach a variety of energy issues, rather than single out energy efficiency.
If Congress does end up acting on energy, it will likely make deployment of existing energy efficiency technologies a priority, said Lisa Jacobson, president of the Business Council for Sustainable Energy, which represents groups such as retail giant Walmart and energy company PG&E Corp. "If they are going to recalibrate, efficiency is going to come towards the top of that list," she told BNA.
A PDF version of this article is available here.